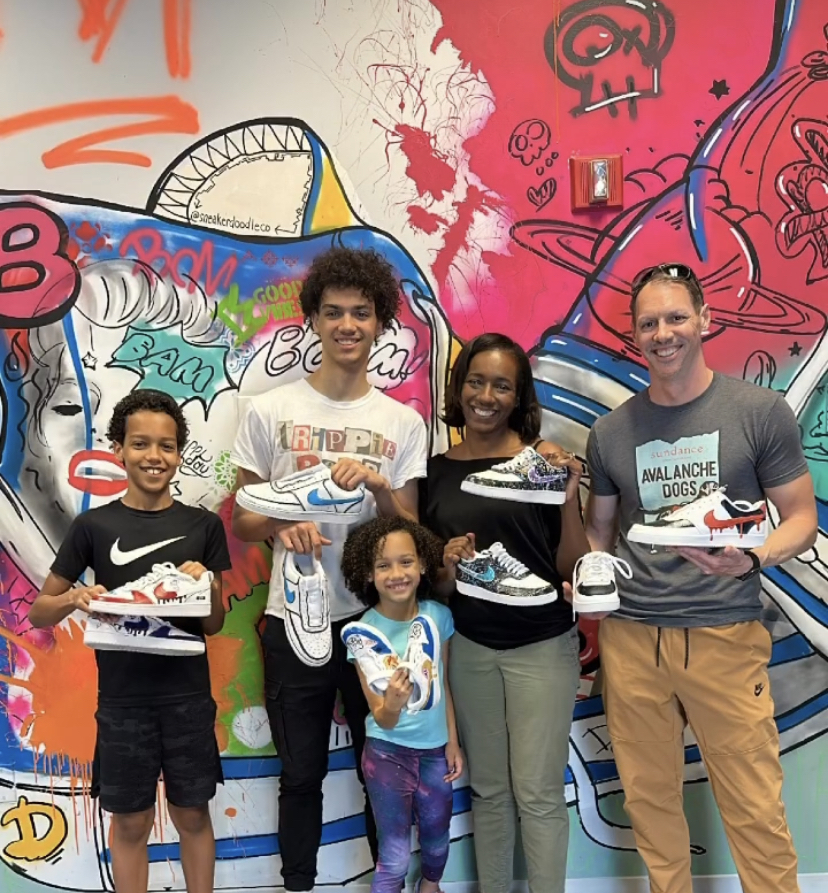 Mother's Day Magic at Sneakerdoodle: A Crafty Family Adventure
This weekend, as a special treat for Mother's Day, my family and I ventured to Sneakerdoodle, an extraordinary place that blends creativity, fashion, and personal expression in the most enjoyable way possible. As someone who thrives on crafts and creativity, it was an idyllic way to spend quality time with my family.
The sneaker customization process at Sneakerdoodle was fascinating, engaging, and super cool! It all starts with sharing your vision or inspiration for your personalized shoes. The artists guide you through the process, making it interactive and exciting. Unlike places that dictate a step-by-step process, Sneakerdoodle encourages you to dive head-first into the project you want to create.
The process is quite simple and straightforward:
Book an appointment by visiting Sneakerdoodle Custom Shoe Class Event. We booked our appointment about 3 weeks in advance. This place is quickly becoming an Atlanta Area hot spot, so the earlier you book, the better.
Purchase a pair of plain shoes. We chose white because it provides the easiest canvas. However, if you envision a different base color for your shoe, choose what suits your style best.
Find inspiration. Google, Pinterest, Instagram, and Etsy are all fantastic resources for shoe design ideas. Don't shy away from designs that include cool doodles or sketches – Sneakerdoodle has trained artists on hand who can sketch out designs directly onto the shoe for you.
Show up, have fun, and don't be afraid to make mistakes! The staff of wonderful artists at Sneakerdoodle are there to help you achieve your vision, and they can clean up any areas of the shoe that you may have accidentally painted the wrong color or painted outside the lines.
Rock your shoes! The final step in the process includes a finish that will make your shoes waterproof and ready for you to wear with pride.
Each of my family members chose a different, unique approach for their shoes. Austin went for a cartoon-themed style, carefully drawing and painting defined lines with a paint marker. I opted for a more abstract look, painting my shoes black, then adding paint splatters and distressed foil onto the swoosh for a grunge aesthetic. Jackson, always the eccentric, drew and painted a plethora of designs, including characters from 'The Amazing World of Gumball' and various anime. Ansley, our little artist, combined a bit of everyone's style, from drips and sketches to free-styling whatever she felt in the moment. David, a true Auburn fan, painted a shoe inspired by his beloved team, complete with stylish drip accents.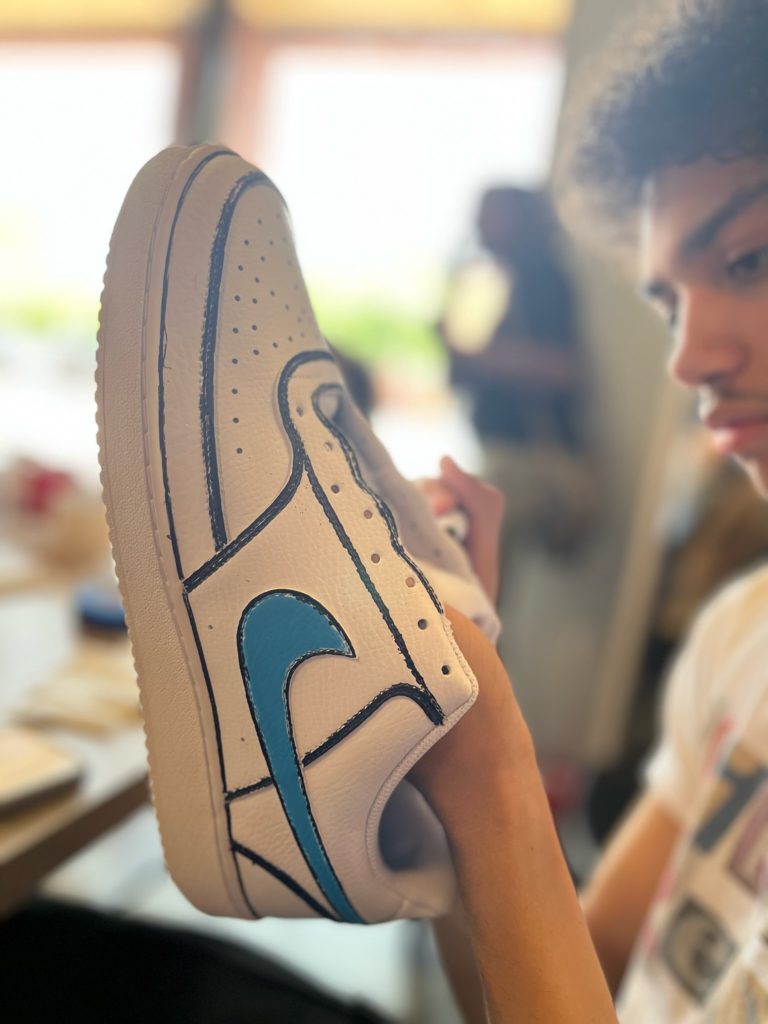 The customer service at Sneakerdoodle was equally impressive. The entire process felt like a concierge service, specifically tailored to our needs and preferences. We had a designated artist at our table who really took the time to understand what we wanted. In addition, other artists, who held degrees from various art institutions, assisted us throughout our crafting journey. Their passion for their work was palpable, enhancing our experience even more. The love and dedication poured into this place, including from the owner, were evident and contributed to making our day even more special.
Our Mother's Day adventure at Sneakerdoodle was a unique, fun-filled, and crafty experience. It allowed us to express our creativity, bond as a family, and leave with personalized sneakers that we'll treasure as a special memory of this day. Sneakerdoodle's top-notch service and the enthusiasm they showed for their craft was a refreshing experience that we can't wait to repeat.