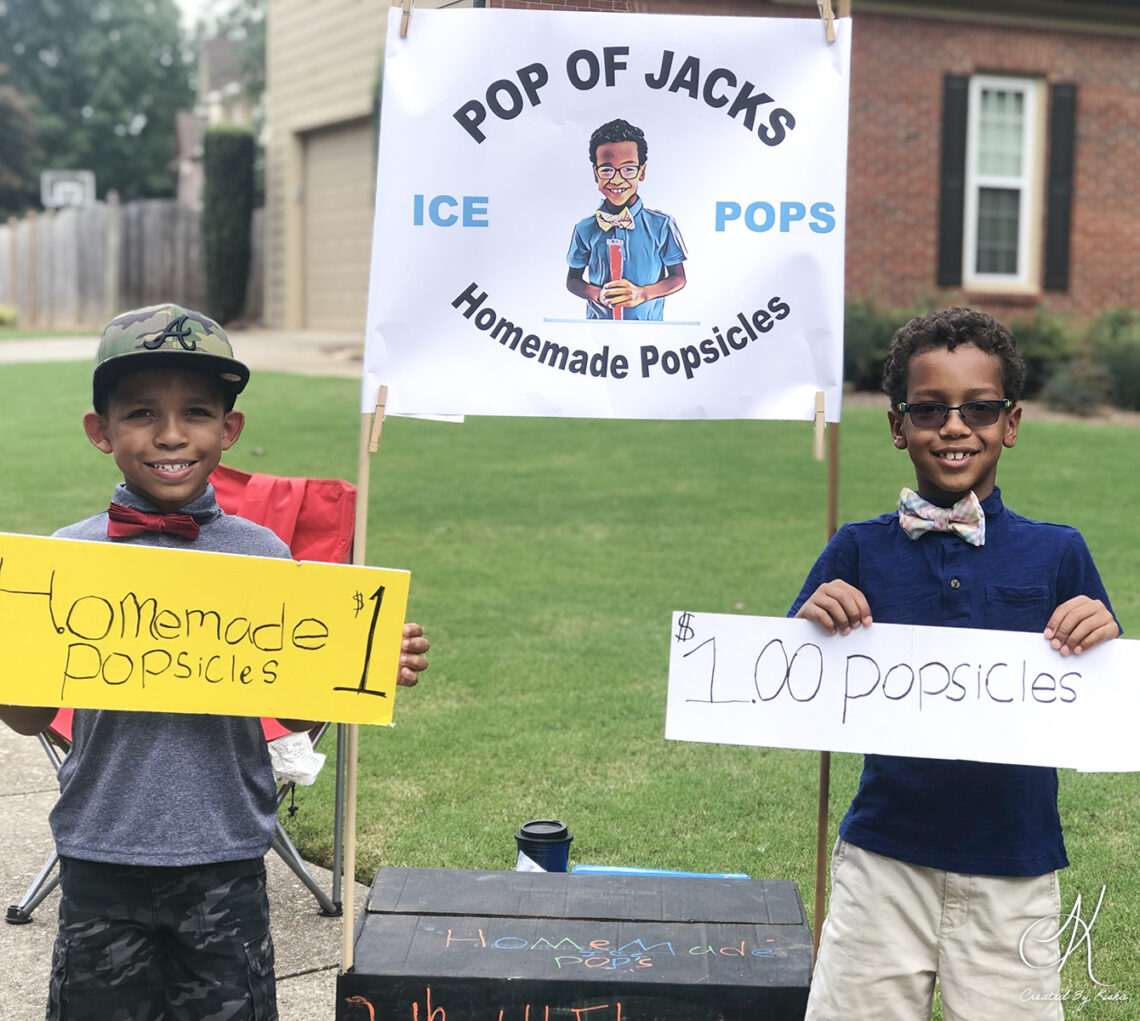 With the exception of 2020, every summer, the kids start a summer business. This week we will work on developing an idea, building a stand, marketing, and selling their product during Entrepreneur Camp.
In the past, Jackson has run "Pop of Jacks," a popsicle stand that usually brings in roughly $75-$100 every day he goes out. From an early age, he learned how to use his charm and a few signature popsicle recipes to rake in sales, donations and create repeat customers. Due to probable concerns over the safety of homemade products, we will use those skills to launch a new business run by Jackson & Ansley.
David and I will keep track of and make the initial investment in their business with the agreement that as long as they make what we invested back, they get to keep all the money they make. This little clause in the agreement has motivated them year after year not to give up when running the business gets a little tough.
Learning about entrepreneurship
Developing Product
Creating a Stand
Marketing and Advertising
Selling the Product
As always, you are welcome to join us. The supply list and schedule are listed below.
July 5-July 9
Field Trip Fridays
Where We Are Going
Other Fieldtrip Ideas
Sky Park

Go to the Pool
Go to an Amusement Park
Activity Supply List
We use a combination of the supplies on this list as well as some supplies we already have at home. We do receive a small commission for any purchases made using the included links
Business Stand

4 Wooden Crates (18 X 12)
2 1x4s (for the poles of the sign)
1 1×8 (for the horizontal sign)
Spray paint in your desired colors
Lemon Smoothie

1/2 cup yogurt
1/2 cup ice cubes
1 tablespoon fresh lemon juice
1 tablespoon honey
1-1/2 teaspoons grated fresh ginger
1 teaspoon grated lemon zest
pinch of ground turmeric
Mini Pancakes

2 cups all-purpose flour
2 Tbsp granulated sugar
1 tsp baking powder
1/2 tsp baking soda
1/2 tsp salt
1 3/4 cup buttermilk
2 large eggs
3 Tbsp unsalted butter, melted
Blueberries, raspberries, mini chocolate chips, or melted butter and cinnamon sugar (optional)
Maple syrup, for serving
Ranch Snack Mix

5 cups rice cereal such as Rice Chex cereal
2 cups cashews or cocktail mix peanuts
5 cups pretzels
3 cups cheese crackers
2 cups oyster crackers
4 1/2 tablespoons unsalted butter, melted
1-ounce ranch seasoning dry powder
2 teaspoons mustard powder
1/4 cup grated parmesan
1/2 tablespoon dried parsley flakes