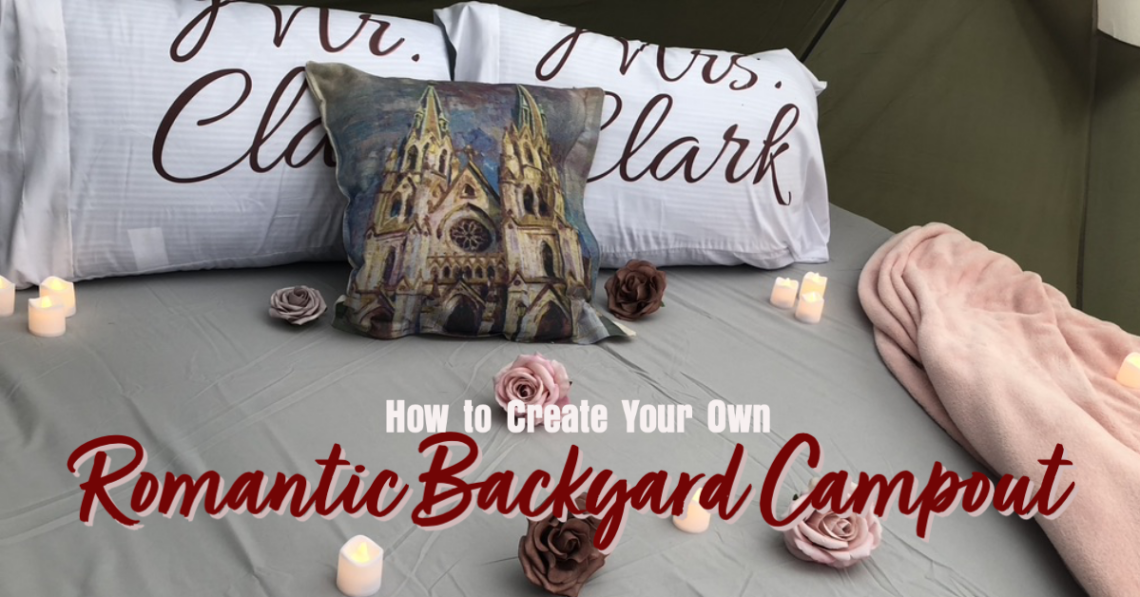 5 Steps to Create the Perfect Valentine's Day Campout
For our anniversary, I invited my husband to go camping with me, in our backyard. By pitching a tent and adding some much-needed glam to the space, I was able to create a romantic oasis to celebrate our special day. Below are the steps you can take to easily transform your own backyard into a romantic Valentine getaway.
1. Gather /Order your supplies. If you want to order your supplies and have them arrive in time, Amazon Prime is your best bet. Luckily, however, even with just a few hours to spare, you can pull this idea off rather easily. Almost everything you need for a romantic camp out can be purchased at your local Walmart, Target, and/ or sporting good store.
The Supplies Necessary Are:
The tent I used a 10 person tent because I needed it to be large enough to fit a queen-sized air mattress and an eating area. A smaller tent could be used but space will be much tighter and probably require a smaller mattress.
Air Mattress: With a queen-size self pumping air mattress, sleeping inside the tent was comfortable.
Candles: I lit 48 flameless (battery-powered) candles to create a romantic ambiance and give off just enough light to properly set the mood. For obvious reasons, please do not use candles with flames.
Pillows: I used a combination of pillows we already owned as well as some newly purchased ones to soften up the tent, add interest to the bedding and create seating. I was able to utilize sublimation techniques to print monograms and images on the pillows.
Paper/Cardstock: to create the invitation
Artificial flowers: placed throughout the tent for decor which can be easily substituted for real flowers, if you prefer.
Plush Blankets: to warm up the tent and to create some softness on the bedding and the tent floor
Ottoman or small table: to eat on.
Small table cloth and dishes: to put on your ottoman to eat.
Sheets: To create varying levels in the tent, I used an air mattress that is 22 inches off the ground. Of course, that necessitated ordering sheets that would fit a higher than normal mattress.
(click here to see a full list of items I used than can be purchased on Amazon)
2. Create an invitation.
Your invite could be as simple as a handwritten note to a more intricate card stock invite like the one I created below. Using my Silhouette Machine and a design file from Simply Crafty SVG, I cut and assembled the pictured box and put a handwritten note and flower inside inviting my husband to camp out with me.
3. Set Up Your Tent: Blow up your air mattress, make the bed with your sheets and pillows and add your finishing touches. There is absolutely no one way to do this and you should really decorate in a way that is specific to your taste. I put a blanket on the floor because it felt like a soft carpet underneath our feet. I added the flowers in places that need some extra touches. I covered the ottoman with a table cloth and added our table settings. The monograms created some personalization and the candles gave the tent just the right light. Play the video below to view how I set up my tent.
4. If applicable, Establish a Plan For Your Kids: We have a 16-year-old who agreed to look after his siblings while we spent the night out. The kids knew we were just outside and were told to call our cell phones with emergencies only. You don't have to spend the entire night in the tent for it to be fun. If you don't have child care readily available but your kids are old enough to hang out for a few hours without your supervision, just pop in a movie for them and sneak away to the tent. Another option is to wait until your kids are in bed, then spend a few hours together in your newly created romantic outdoor setting.
5. Enjoy each other's company: Order takeout or prepare a meal to be served in the tent. If your tent is big enough for you to stand in (ours certainly was)play music from your phone or a blue tooth speaker and slow dance surrounded by the beautiful candle lights. Play some couples games and reconnect. There are so many ways to take advantage of the lovely ambiance created in your backyard valentine's day getaway.
I used Monogram Letters to decorate the tent. And personalized pillows with our initials, names and photos of where we met and the church where we were married.